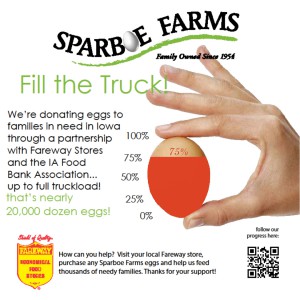 We are excited to announce that we are 75% of the way to filling the truck! As a reminder, this campaign is with our customer, Fareway, and together we are donating a truckload of eggs to the Iowa Food Bank Association to feed families in need.
The campaign has been mentioned in TV, radio and print media outlets and was even mentioned in our industry publication put out by CEAM and The Shelby Report, which is a grocery industry publication.
If you live near a Fareway, help us get that last 25% and purchase a dozen eggs so that we can make this important donation to the community in Iowa.