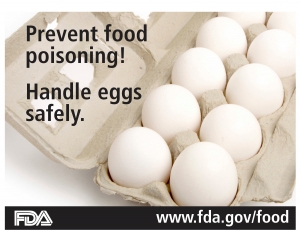 What You Need to Know
Fresh eggs must be handled carefully to avoid the possibility of foodborne illness, often called "food poisoning." Even eggs with clean, uncracked shells may occasionally contain bacteria called Salmonella that can cause an intestinal infection.
The U.S. Food and Drug Administration (FDA) estimates that 142,000 illnesses each year are caused by consuming eggs contaminated with Salmonella. FDA has put regulations in place to help prevent contamination of eggs on the farm and during shipping and storage. But consumers play a key role in preventing illness associated with eggs. In fact, the most effective way to prevent egg-related illness is by knowing how to buy, store, handle and cook eggs — or foods that contain them — safely. Click on the following link to learn some safe handling tips that will help protect yourself and your family.
http://www.fda.gov/food/resourcesforyou/Consumers/ucm077342.htm